This week I had some time off work which left a little bit too much time to go shopping. I even managed to venture into SpaceNK on Sloane Square in London, to purchase my very first SpaceNK product Kiehl's Ultra Light Daily UV Defense moisturiser, as recommended by 'I COVET THEE'. I'll be following up on this later with a product review at the end of Feb.
SpaceNK, £31
Other than a beauty purchase, I also spent my time checking out the offering from a brand new New Look (so it had all the best items), Topshop, Miss Selfridge and Zara. I'll be posting a haul video (as well as the promised lemon trend video) this week, so keep your eyes peeled for them.
Onto the reason for this post. This week's favourites from the highstreet.
Firstly, Topshop's
Tropical Palm Tree Skort
caught my eye. Skort's are huge and set to be even bigger for Spring/Summer on the highstreet. This jacquard offering from Topshop meets all your Skort needs, whilst providing a slightly thicker fabric to keep you somewhat warmer on these freezing cold days. I also love the tropical pattern to remind me of sunnier times and for £34 you can't really go wrong with this purchase!
Topshop, £34
Next up, Urban. I'll be honest, Urban Outfitters is not a shop I regularly visit as it's a little too edgy for my style. However, with my job I have to keep one eye on the styles coming in. When I saw this
Cooperative Daisy Crochet Sweatshirt
I was in love. My manfriend (he's too old to be called a boy anymore!) even made a comment about it being 'nice', which I can tell you, is a
BIG
deal. I love that it's patterned but still in a block colour way. At the moment I've been trying really hard to choose more patterned styles, due to inspiration from my best friend's wardrobe, but I still come back to my plain favourites. As the saying goes if it's not broken, don't fix it!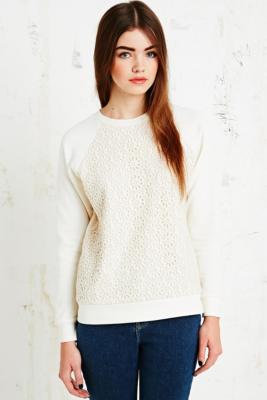 Urban Outfitters, £40
Lastly, following on from the huge success of Whistles 'Comme Ci Comme Ca' sweatshirt, they're offering a
Mystic Mountain Jacquard sweat
. While this isn't a slogan sweat, it's still a stand out interest piece, with what I can only describe as a mountainous looking pattern adorning the fabric. I love the easy monochrome palette which I reckon could be really versatile with the use of some pop colour! It's slightly pricey at £130 but, you know you're getting Whistles quality when you make your purchase.
Whistles, £130
So there you have it. A run down of my highstreet favourites for the week. In personal news, I've been house hunting in London this weekend, dragging the manfriend along for his wisdom and experience on what to look for in flats in the city - dating an older guy does come with some perks! Below is a sunny selfie of the two of us on house hunting on a crisp Saturday morning.